een betoverende avond vol koormuziek van moderne componisten
Na een lange periode van muzikale stilte brengt Kleinkoor Caprice op zaterdag 14 mei het prachtige concert Where the light begins. Tijdens deze avond staat het thema licht en donker centraal en bezingt het koor hoe vanuit de diepste nacht het licht weer terugkeert.
Op het programma staan onder meer het indrukwekkende, hedendaagse Miserere van James MacMillan, het tweeluik Dark night of the soul en Luminous night of the soul van Ola Gjeilo en prachtige werken van Mealor, Whitacre en Lauridsen.
Programma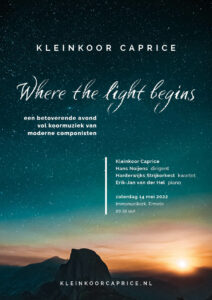 James MacMillan  Miserere
Ola Gjeilo  Dark night of the soul & Luminous night of the soul
Paul Mealor Locus iste & She walks in beauty
Eric Whitacre Water night & Five Hebrew Love Songs
Morten Lauridsen Sure on this shining night
Kleinkoor Caprice
Hans Noijens  dirigent
Harderwijks Strijkorkest  strijkkwartet
Erik-Jan van der Hel  piano
Online reservering gesloten.
ZATERDAG 14 MEI 2022
20.30 UUR kerk open 20.00 uur

IMMANUELKERK, ERMELO